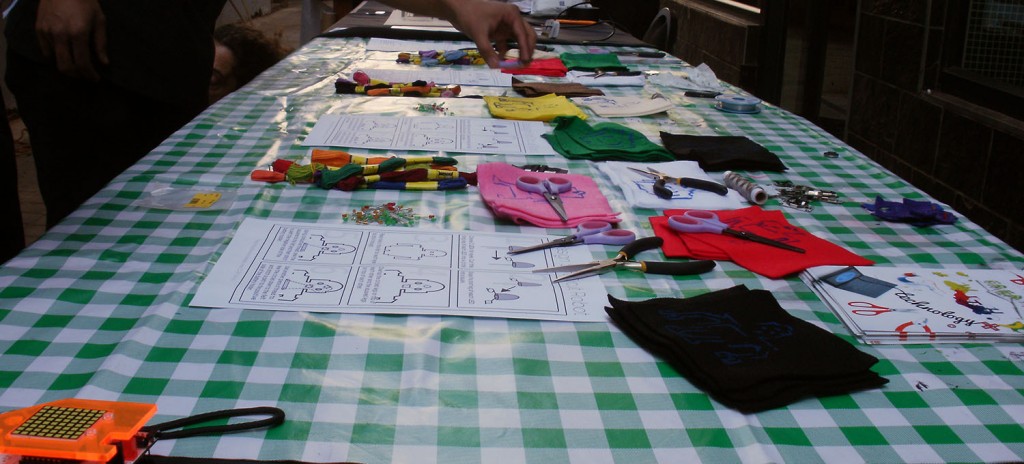 Last month Codasign got to join Bare Conductive and Technology Will Save Us for the first Market Hack in Johannesburg. Market Hack was curated by Irini Papadimitriou and a part of A MAZE and the Innovation ZA programme by the British Council.
The Market Hack was located across the street from a popular Saturday pop-up food market. A multi-story car park is transformed each weekend into a delicious assortment of sweet and savoury market stalls.
TWSU brought along their DIY Gamers and everyone had a go at designing and programming their own animations. Bare Conductive had Electric Paint badges and several demos of their awesome Touch Board. We hosted a drop-in workshop where visitors made their own soft circuit robot with light-up LED eyes. A huge thanks to RS Components who sponsored the event and provided the electrical components for the robots!
The maker scene in South Africa is young, but quickly growing. The Market Hack also featured some local makers who are already doing some amazing things. Dino Fizzotti and Bushveld Labs were both there showing off their latest projects.
You can read more about the event on the British Council blog on Bare Conductive's site. We also have more photos up on our Facebook page.