Last Wednesday Nesta kindly hosted our partner launch event for our Digital Makers Project. Our video introduces our Superpowers Creative Technology Workshops project through which we are partnering with museums and galleries across the UK to deliver workshops for children and young people.
The Digital Makers Fund is run by Nesta and Nominet Trust, in partnership with Autodesk, with an aim to help inspire a generation of digital makers – young people with the skills, confidence and motivation to make, not just consume digital technologies.
We are working in partnership with a network of independent arts organisations from around the UK to teach more kids and young people how to be creative with technology. Our partners are helping ensure our workshops meet the needs of their local communities. They are:
We started the day with some making and demonstrations. The different partners have varying experience with creative technology, so the morning was about getting everyone exposed to what kinds of things happen in our workshops. Everyone made a light-up name badge using Bare Conductive Electric Paint, moved a character around in Scratch using a MaKey MaKey, and learned a little about programming an Arduino.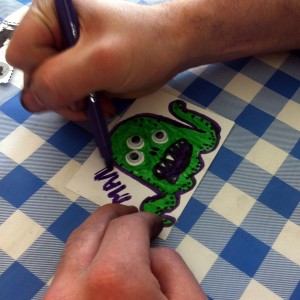 In the afternoon, Katy from Caper led sessions on mapping the organisational and audience needs for each of the partners.
We are now working on developing our Superpowers Workshops. We will start running them in London this summer and then travelling to our partners around the UK at the end of July. If you'd like to keep updated on upcoming workshops, sign up to our mailing list!