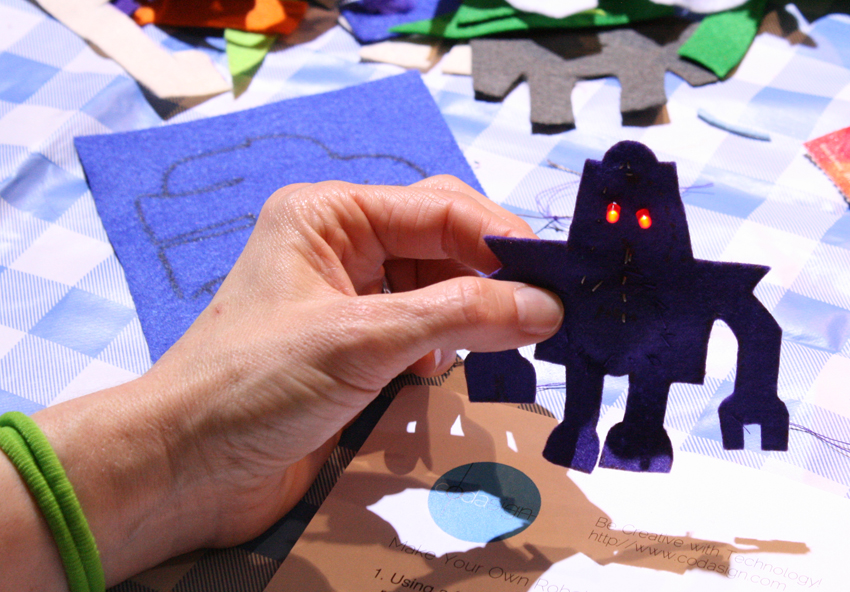 Whilst most people were spending their Easter Weekend hunting for and eating chocolate eggs we were spending ours in Edinburgh at the Edinburgh Mini Maker Faire. The faire is organised by the Edinburgh International Science Festival who do a lot of great work in the city and abroad too. They are an educational charity that run a yearly festival in Edinburgh which encourages people of all ages to explore the world around them and see how exciting science can be. The festival was running from the 5th to the 20th April so we just caught a glimpse of it!
This trip was our first visit to the Edinburgh Mini Maker Faire and as well as running a drop in soft circuit robot badge workshop for the day we also ran workshops in capacitive sensing with Arduino and Bare Conductive paint and also our interactive puppet with Scratch and MaKey MaKey workshop.
This soft circuit robot badge workshop is a great way to teach people of all ages about electronics but also craft skills. We ran the same drop in session for the Elephant and Castle Mini Maker Faire last July where it was equally as popular.
MadLab's table.
Capacitive sensing demo set up at our table.
Different sensors being created in our capacitive sensing workshop.
Amazing dove puppet in our interactive puppet workshop with Scratch and MaKey MaKey.
The best thing about running something at a maker faire is that you get the opportunity to see lots of other cool things as well! We certainly did, from LED railways signals (great project from Iain Yarnall) to an array awesome boards at Mad Lab's stand.
Amazing creatures created by people in Make A Monster workshop.
One of the most exciting things that happened was Make a Monster workshops! This is ran by Howling Mouse Workshop and each participant  is encouraged to think about their creature in a broader way when making it. This involves thinking about things such as their ecology, bringing in discussions around biodiversity and sustainability.
We look forward to the faire again next year and hope that everyone involved had a wonderful time too!