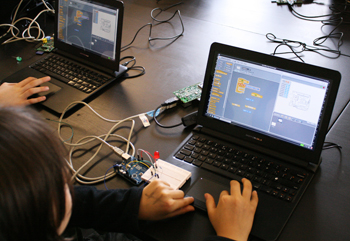 On Saturday we celebrated Arduino Day 2014 with a programme of morning workshops and an afternoon showcase of artist's work. The day was organised in partnership with Furtherfield and took place at Furtherfield Commons, their newest space in Finsbury Park.
The workshops ran as three sessions: one for kids, one for young people and one for adults. All of these were at a beginner's level with an aim to get everyone enthusiastic and excited about Arduino and physical computing whilst learning some basic interactions with it.
For the kids workshops we used Arduino with S4A, a Scratch modification. As we already do a lot of work with Scratch and MaKey MaKey it very great to introduce our participants to something new which they has not used before whilst building on previous workshops. The young people's and adult's workshops had the same content with participants learning how to programme the board using the Arduino IDE.
A huge highlight of the day was the fact that Raspberry Pi very generously allowed us to borrow their Pis and lapdocks! This was a real treat as we've been wanting to try this setup out for a while and it worked brilliantly for the workshops. We get a lot of participants, especially families often asking us about Pis so it was a good opportunity to show people how you can use them.
The afternoon showcase gave a nice perspective on the variety of different projects which can be produced using Arduino. Practitioners showing their work included Cliff Hammett with Heart Rate Turn Timer (a timer which allows you to take a turn at chess only after a certain number of hear beats) and Deep Media Ecologies (DM001) by Olga Panades Massanet and Vincent Van Uffelen (a device which allows users to have non-verbal communications by sharing GSR fluctuations).
We had an excellent day so thank you so much to everyone who came and thank you so much to Furtherfield for collaborating with us! We have more photos of the event on our Facebook page.