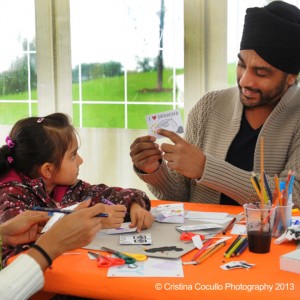 Last month we joined SPACE and The Big Draw at the Queen Elizabeth Olympic Park. In both the park and the White Building we had drop-in workshops where families stopped by to create drawings. The unusual thing about the drawings was that they all had LEDs lit up – and the circuits for the LEDs were created with paint.
Above are some of the drawings made. You can see more on our Facebook page.
The paint we used was by Bare Conductive. They've just launched their newest product, their Touch Board. It looks like a lot of fun, we can't wait to play with it!